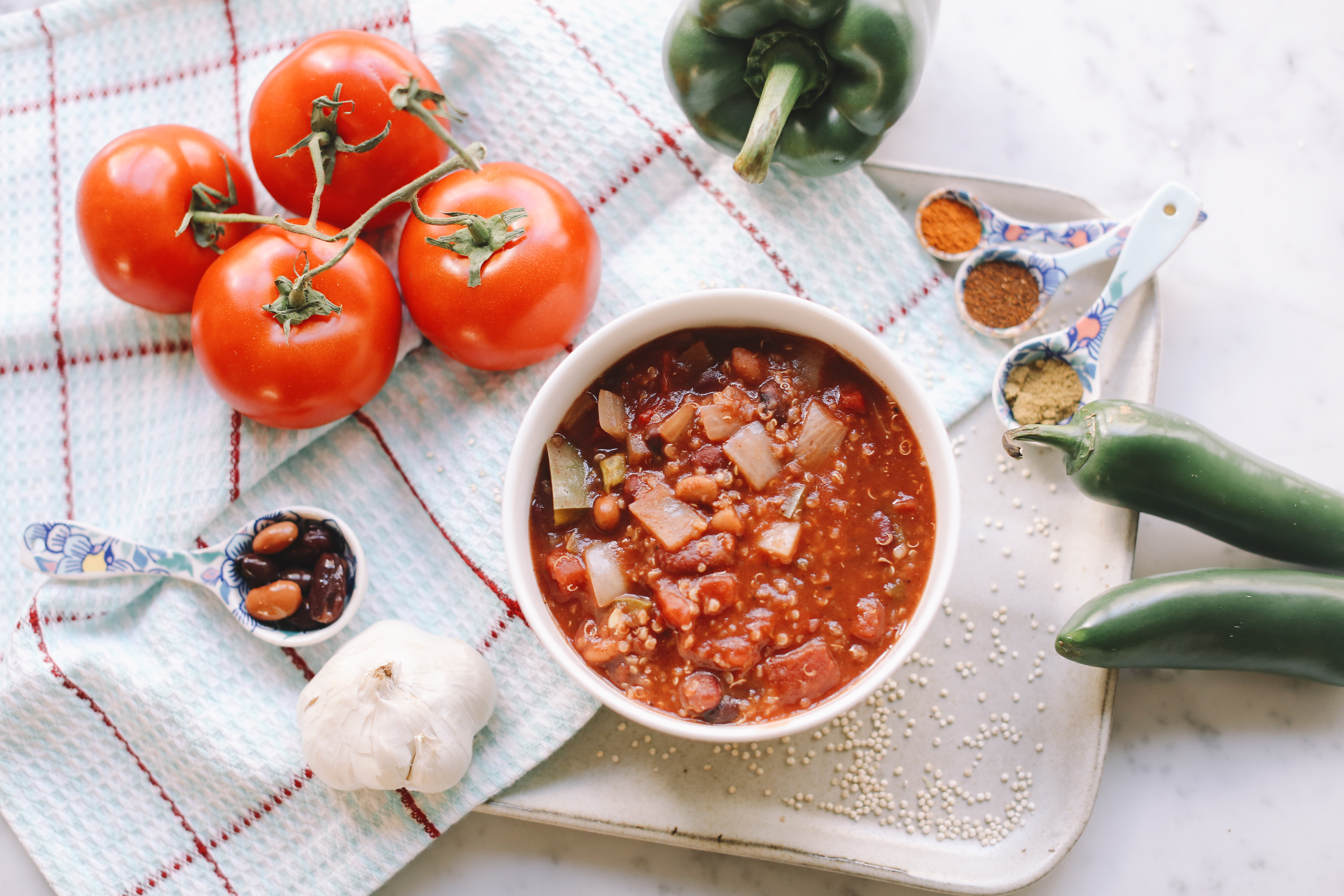 This chili is one of my favorites. It's super easy and comes together quickly. It can be made on the stove if you plan to be home or in the slow cooker if not. While it is vegan, the quinoa and three types of beans give it tons of plant-based protein. It will fill you up for hours and give you tons of energy. As written it has a bit of heat, but feel free to add more cayenne or jalapeno ribs/seeds if you like it hot! Hope you'll give my Vegan Chili a try and let me know what you think. Don't forget to post pics and tag @livlight_ and #LivLight.
Ingredients:
Serves 4-6
2 tbsp coconut oil
1 yellow onion, chopped
4 garlic gloves, minced
1 green pepper, chopped
2 jalapenos, seeded and ribs removed
2 cans diced tomatoes, no salt added
1 can tomato sauce
2 tbsp chili powder
¼ tsp cayenne pepper
2 tsp cumin
1 tsp salt
1 tsp black pepper
1 can black beans, no salt added
1 can garbanzo beans, no salt added
1 can kidney beans, no salt added
½ cup quinoa
2 cups vegetable broth
Directions:
Drain and rinse all beans and set aside. Add coconut oil to a large dutch oven and heat on medium-high. Add onion and cook until translucent. Add garlic and stir until fragrant, about a minute. Add peppers, tomatoes, tomato sauce, and spices. Stir well. Add remaining ingredients and bring to a boil. Reduce to a simmer and cover. Let cook for about 30 minutes, making sure to stir every ten minutes to prevent the quinoa from sticking.
This can also be made in a slow cooker as follows…
Add broth, quinoa, beans, tomatoes, and tomato sauce to the slow cooker. Stir to combine. Add spices and stir again. Finally, add green pepper, onion, garlic, and jalapeno and stir well to combine. Heat on high for about 3 hours or low for six hours.