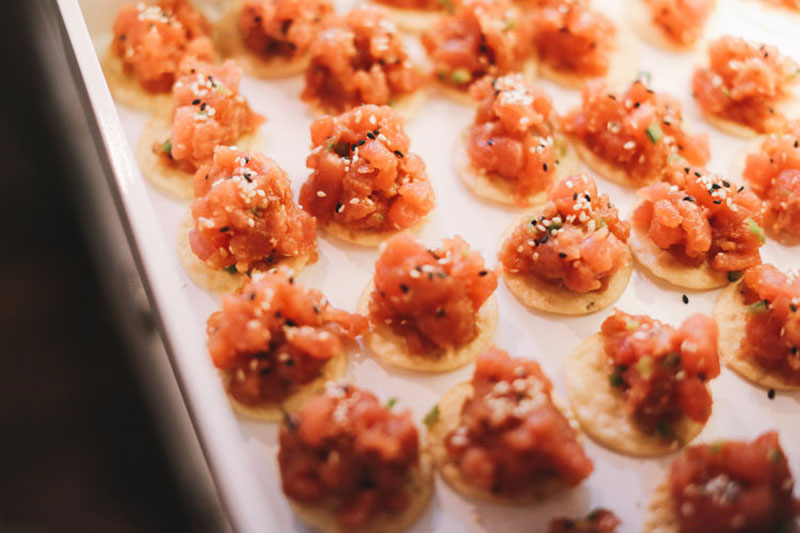 I recently hosted a dinner party for 14 of my girlfriends. I was excited to show them that a dinner party and/or celebration doesn't necessarily have to involve heavy and unhealthy food, but can instead be based around plants and healthy proteins. I was even more thrilled when I found out Domino Magazine was going to feature the dinner on their fabulous site!! Click here to check it out!
I served three different hors d'oeuvres during cocktails including my Tuna Tartare on Rice Crackers. Tuna is an excellent source of protein and the rice cracker keeps them light and gluten free. You could also serve them on a sliced cucumber for an even lighter option.
Ingredients:
1 pound sushi grade tuna
¾ tsp fresh ginger, peeled and minced
1 ½ tbsp low-sodium tamari(wheat-free soy sauce)
2 tsp fresh lime juice
1 ½ tbsp organic sesame oil
1 jalapeno, minced
2 tsp black sesame seeds
Rice crackers or sliced cucumbers
Directions:
Cut tuna into quarter inch cubes. Combine ginger, tamari, lime juice, jalapeño, and sesame oil. Add tuna and stir gently. Place mixture in the fridge for about 30 minutes to marinate. Top rice crackers or cucumber slices with tuna mixture and sprinkle with sesame seeds.