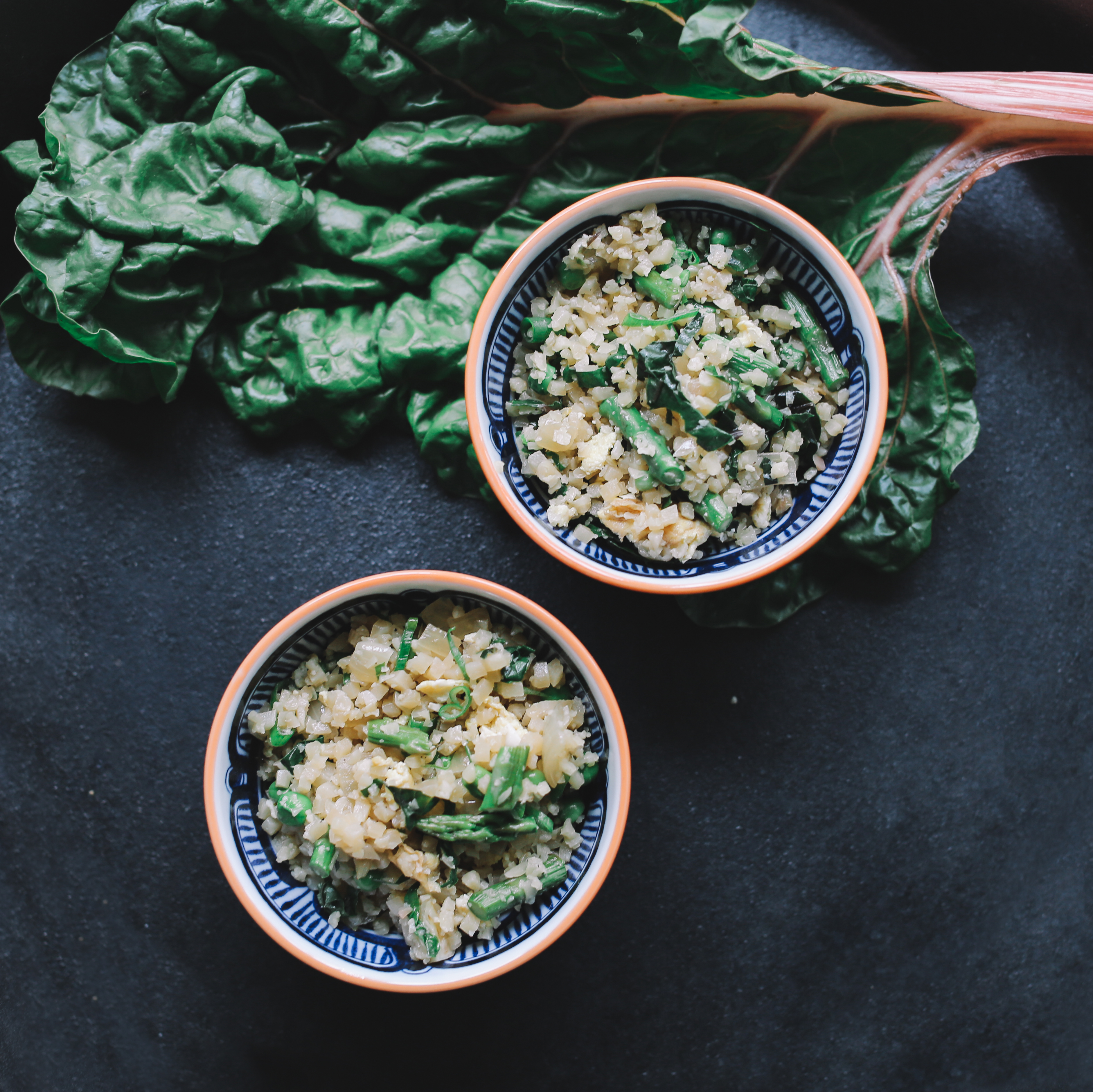 If you've made my Cauliflower "Rice" recipe, you know you can add basically anything to it just like a traditional rice. In this case, I decided to create an Asian-style fried rice with a Springtime twist. It comes together quickly (especially if you purchase pre-riced Cauliflower, which they now carry at Trader Joe's and Whole Foods), looks beautiful, and tastes even better. It has rich flavors, despite being super healthy, and is sure to be a crowd-pleaser!
Hope you'll give my Cauliflower Fried Rice a try and let me know what you think. Don't forget to post pics and tag @livlight_ and #LivLight.
Ingredients:
Serves 4-6
6 cups riced cauliflower or 2 bags of Trader Joe's frozen cauliflower rice
2 tbsp olive oil or coconut oil
1 large yellow onion, chopped
2 garlic gloves, minced
1 bunch asparagus, trimmed and chopped
½ cup frozen peas
1 cup chard or kale, chopped in short ribbons
2 eggs (optional, leave out to keep vegan)
2 tbsp low-sodium tamari or coconut aminos
¼ tsp salt
¼ cup green onion (green part only), thinly sliced
chili sauce (I use organic sriracha)
black and white sesame seeds
Directions:
Heat one tablespoon of oil over medium-high heat. Add chopped onion and salt, and sauté until soft and lightly browned. Add garlic and sauté for another minute. Add riced cauliflower and sauté until cooked through. In a separate skillet, heat ½ tablespoon of oil, add asparagus and peas and cook for about a minute or two (you want to keep them green and al dente). Add kale or chard and allow to just wilt, about 30 seconds. Add this veggie mixture and tamari to the cauliflower rice and stir well. Add the final ½ tablespoon of oil to the empty skillet and add eggs. Scramble until firm. Fold the cooked eggs gently into the rice mixture and garnish with green onions, chili sauce, and sesame seeds.