As the temperatures drop, I crave warm and nourishing foods. I had been eyeing two recipes from fellow food bloggers and finally had the chance to make them this week just in time for a predicted snowstorm. Both turned out to be absolutely delicious and made big pots for me to have in the fridge if we get snowed in! Here is the Coconut Curry Soup from Kale & Chocolate and the Red Lentil Soup from Crunchy Radish! I made a few slight tweaks for my personal taste, but for the most part followed their versions. Hope you'll give them a try and let me know what you think. Don't forget to tag @livlight_ in your creations and #livlight!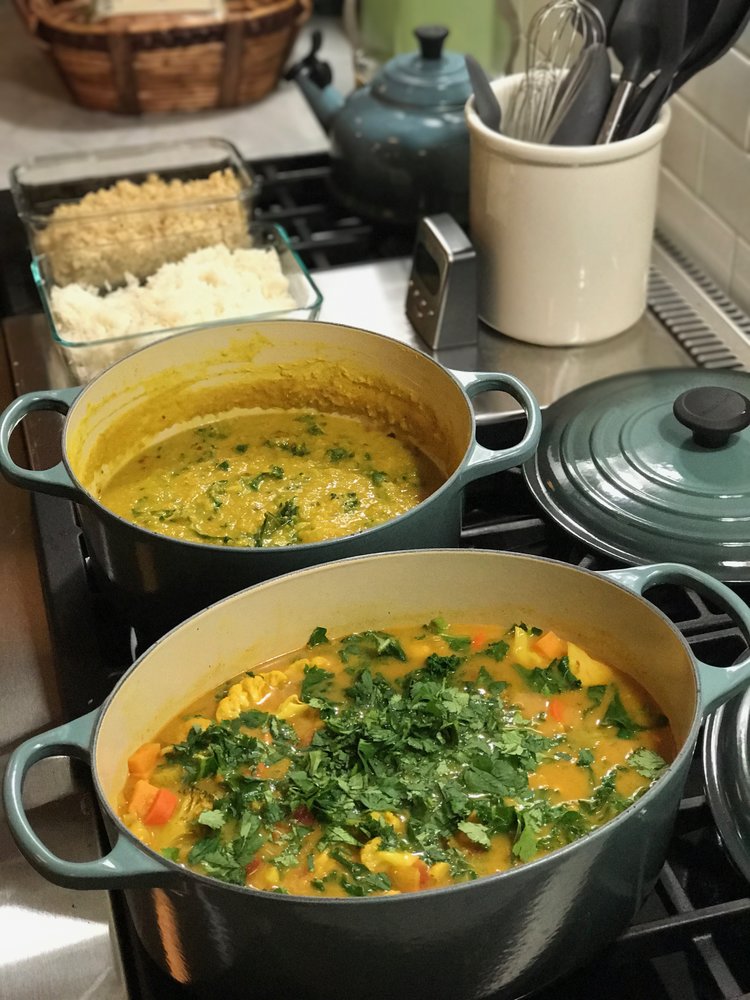 Ingredients:
1 tablespoon coconut or olive oil

1 medium onion, diced

1-2 tablespoons curry paste

1 tablespoon fresh ginger, grated

1 tablespoon fresh turmeric, grated (1 teaspoon dried)

1-2 cloves garlic, minced

pinch of cayenne

4 carrots

2 stalks celery

2 cups cauliflower (I used cauliflower and broccoli and threw in extra!)

1 medium sweet potato, cubed

4 cups vegetable broth

1 can coconut milk (full fat)

½ cup tomatoes, diced

¼ cup cilantro, chopped

1 ½ cups garbanzo beans (one BPA-free can or equivalent)

1 medium head curly kale, stalks removed and loosely sliced

Salt & pepper to taste

Juice of 1 lime (reserve until the end

Crushed red pepper flakes (optional) and cilantro for garnish
Directions:
In a large dutch oven, sauté the onion until softened. Next add in the curry, ginger, garlic, turmeric, sea salt and pinch of cayenne. Cook for one minute. Add in the carrots, celery, cauliflower, and sweet potato and cook for 5 minutes until softened. Toss in the cilantro and garbanzo beans. Reserve the tomatoes and kale until the end. Add in the broth and coconut milk and bring to a boil. It should cover the vegetables like a soup. (Adjust liquid amount if necessary.) Bring to a simmer and cover for about 25-30 minutes or until all the vegetables can be pierced with a fork. Turn off the heat and add in the tomatoes and kale. Cover for 2-3 minutes. Mix with a spoon to distribute evenly. Squeeze the juice of one lime into the pot and season with additional spices and salt & pepper to taste. Serve hot with extra lime slices, cilantro and crushed red pepper flakes. 
Ingredients:
2 tablespoons extra virgin olive oil

1 medium onion, finely chopped

5 garlic cloves, mined

2 tablespoons of ginger, minced

1 tablespoon ground turmeric

2 cups red lentils, washed and drained

6 cups filtered water

pinch of freshly ground black pepper/li>

4 cups torn arugula leaves, baby spinach, or kale (I used kale)

1/4 cup freshly squeezed lemon juice
Directions:
In a dutch oven, warm the olive oil over medium heat. Add the onions and sauté for 5 minutes. Add the ginger, garlic turmeric, black pepper and sauté for 2 to 3 minutes. Add the lentils and water, and bring to a boil. Cover soup and cook at a simmer for 30 to 40 minutes or until lentils are creamy and most of the water is dissolved. Stir every 10 minutes to prevent the lentils from sticking to the bottom of the pot. Add salt, uncover pot, and cook for an additional 5 minutes or until lentils are completely dissolved. Right before serving, add the greens, cook until just wilted, and serve from fresh lemon juice and grains if using.