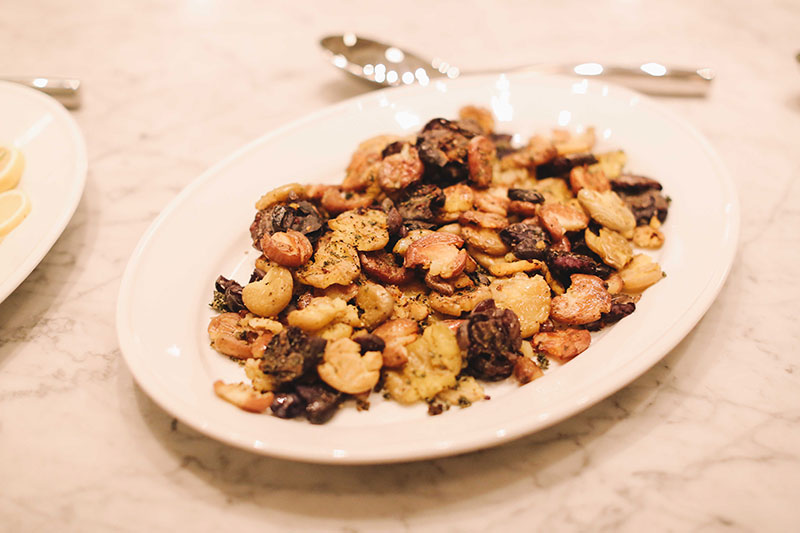 I recently hosted a dinner party for 14 of my girlfriends. I was excited to show them that a dinner party and/or celebration doesn't necessarily have to involve heavy and unhealthy food, but can instead be based around plants and healthy proteins. I was even more thrilled when I found out Domino Magazine was going to feature the dinner on their fabulous site!! Click here to check it out!
I made three side dishes including my delicious mini Smashed Potatoes. They are well-seasoned and baked until crispy giving them that deep-fried feel without the added fat. Hope you'll give them a try and let me know what you think! Don't forget to tag @livlight_ and #livlight in all your food pics!
Ingredients:
1 ½ pounds mixed baby potatoes
2 tbsp extra virgin olive oil
1 ½ tsp onion powder
1 tsp garlic powder
2 tsp dried parsley
½ tsp mustard powder
1 tsp sea salt
½ tsp black pepper
Directions:
Fill a medium pot with water and bring to a boil. Carefully place the potatoes into the pot and boil for 15 minutes, until just fork tender (you don't want them falling apart). In the meantime, preheat oven to 400 degrees and line a baking sheet with parchment paper. Combine onion powder, garlic powder, parsley, mustard powder, salt, and pepper in a small bowl and set aside. Drain the potatoes and carefully pat dry. Once they are cool enough to touch, transfer them to the baking sheet, and gently smash with a fork, until they're about ¼-½ inch thick. Drizzle oil over all the potatoes and sprinkle with the seasoning mix. Bake for about 30 minutes or until crispy. Sprinkle with additional seasoning.