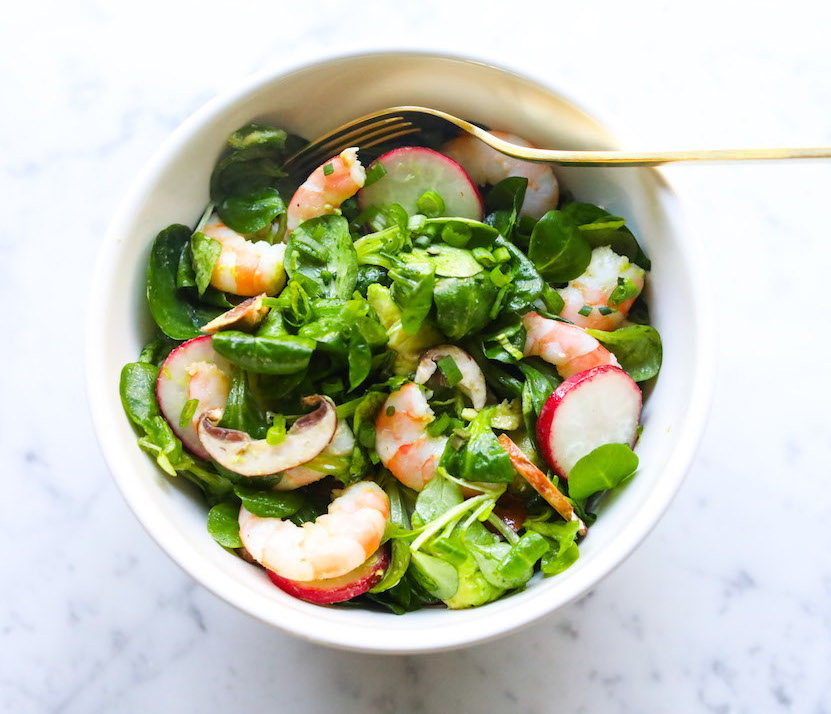 As you all know by now, I love to create healthy versions of my restaurant favorites. One of the best salad's in New York City (IMO) is the Shrimp and Avocado Salad at Jean-Georges Vongerichten's restaurant at The Mark Hotel. It is completely delicious, but this is no surprise given the butter and heavy cream in the dressing! My version is much lighter, but still super yummy and satisfying. Hope you'll give my healthier Shrimp and Avocado Salad a try and let me know what you think! Also, don't forget to tag me in all of your foodie creations at @livlight_ and #livlight.
Ingredients:
Salad
2 containers mache
1 bunch radishes, sliced thinly
1 cup cremini mushrooms, sliced
1 pound medium shrimp, peeled and deveined
1 avocado, cubed
truffle salt to taste
2 scallions, green part sliced thinly
Dressing
¼ cup champagne vinegar
¼ cup olive oil
1 lemon, juiced
1 tsp spicy brown mustard
½ tsp honey (optional)
Directions:
Fill a large pot halfway with water and bring to a boil over high heat. Once water boils, add the peeled and deveined shrimp and simmer until pink, about 2-3 minutes depending on size of the shrimp. Drain and transfer cooked shrimp to a bowl of cold water to stop the cooking process and let cool. In a small bowl or jar, combine dressing ingredients and mix well. In a large bowl, combine mache, radishes, mushrooms, and shrimp and toss gently with dressing (you may have extra). Carefully fold in avocado cubes and sprinkle with truffle salt and scallions. Serve immediately.