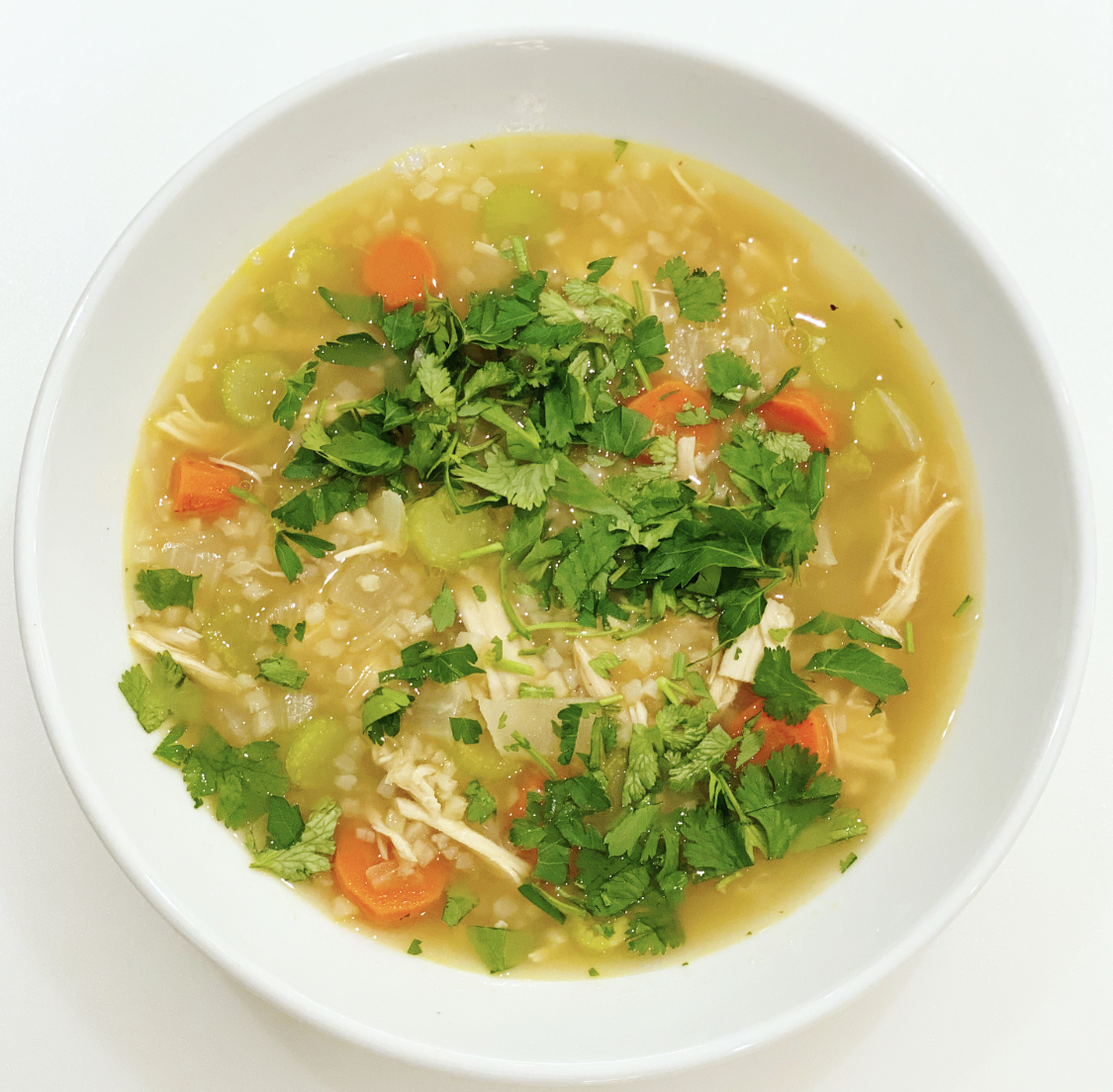 If you follow me on Instagram (if not, please do @livlight_), you know about my obsession with frozen cauliflower rice. I use it in basically everything. It is low in calories, high in fiber, and a simple way to amp up your daily veggie intake (the more plants, the better in my mind!). It is also so convenient now that they sell it everywhere pre-riced in the freezer section (forget those days of grating it yourself!). Now to the point…my go-to, super easy, semi-home-made, one-pot wonder 😂 …Chicken Cauli Rice Soup! I started making this last year when my husband got sick (and I was too lazy to make real homemade chicken soup). He absolutely loved it and still asks for it all the time. He says it literally tastes like real homemade chicken soup made by someone's Grandma!
I call it semi-homemade because I use rotisserie chicken breast (I only buy the one-ingredient organic plain version from Whole Foods, bc it's not filled with chemicals and tons of salt like many others) and pre-riced frozen cauliflower (also the organic one from Whole Foods). Otherwise, it's just a few ingredients and it comes together in minutes. The one-pot makes for quick clean-up, which we can all appreciate.
Hope you'll give my Semi-Homemade Chicken and Cauli Rice Soup a try and let me know what you think! Make sure to share pics and don't forget to tag @livlight_ and #livlight!
Ingredients:
100% olive oil spray
1 medium yellow onion, chopped
2-3 garlic cloves, minced
2 large celery stalk, chopped
2 large carrots, chopped in rounds
1 32oz box unsalted broth (I use bone, but regular broth or vegetable broth work well too)
1 bag frozen riced cauliflower
2 cups shredded chicken breast (I use pre-cooked rotisserie, but you could certainly make your own!)
small handful of Italian parsley, roughly chopped
small handful of cilantro, roughly chopped
Lemon, to taste
Salt and Pepper, to taste
*I also like to add grated Parmesan and crushed red pepper
Directions:
Heat large dutch oven (I like this one) over medium high heat. Spray the pot liberally with olive oil spray, add onion, garlic, celery, and carrots, and cook until slightly soft, but not mushy. Add frozen cauliflower rice and broth and bring to a boil. Cover and let simmer until cauliflower rice is soft, about ten minutes. Add shredded chicken breast, lemon, salt, and pepper and serve immediately.