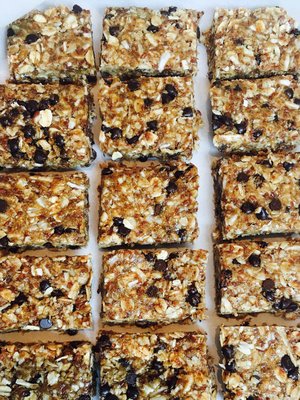 I recently made these at my daughter's school and all of the children and teachers LOVED them! Click here to read more about the importance of cooking with our children. Hope you enjoy this treat, which is safe for most allergies, making it a great option for school lunch or class parties.
Ingredients:
2 cups gluten-free rolled oats (I use Bob's Red Mill Old Fashioned)

1 1/3 cups unsweetened coconut flakes

1 cup SunButter*

1 cup ground flax seed

2/3 cup local honey**

¾ cup dairy, nut & soy free mini chocolate chips (Enjoy Life brand)

1/2 tbsp vanilla extract
Directions:
Mix all ingredients in a large bowl until thoroughly combined. Using a piece of parchment paper, press the mixture very firmly into a 9×13 pan. Freeze for about one hour covered and slice into squares or bars using a sharp knife. Bars can be stored in an airtight container in the refrigerator for up to one week or freezer for one month. Alternatively, mixture can be rolled into bite-sized balls and placed on a cookie sheet for an hour and then stored the same as bars above.
*Can sub another nut butter (i.e. peanut, cashew or almond) if no nut allergy
**You can sub brown rice syrup or maple syrup to make vegan