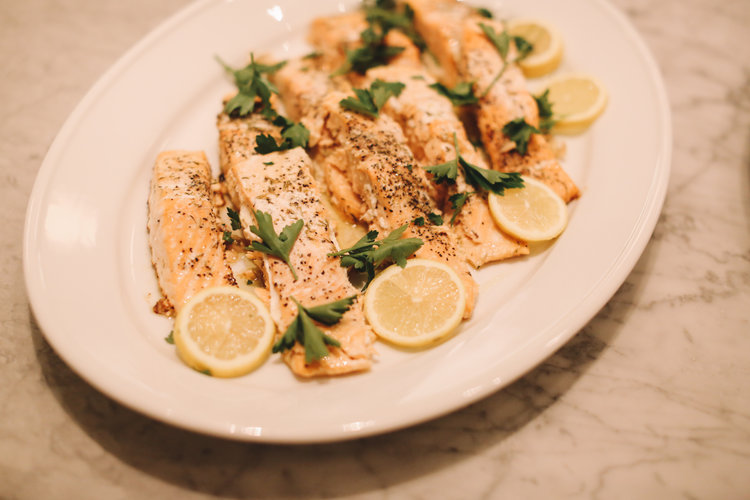 I recently hosted a dinner party for 14 of my girlfriends. I was excited to show them that a dinner party and/or celebration doesn't necessarily have to involve heavy and unhealthy food, but can instead be based around plants and healthy proteins. I was even more thrilled when I found out Domino Magazine was going to feature the dinner on their fabulous site!! Click here to check it out!
For the main dish, I served my famous Roasted Salmon. It is so easy and comes out perfectly every time. Just make sure to ask your fishmonger to remove the skin, which takes the smell away.
Ingredients:
4 6oz salmon filets, skin removed (just ask the fishmonger)
100% extra virgin olive oil spray
1 lemon, juiced
1 tsp dry ginger
1 tsp dry thyme
Salt and pepper to taste
Directions:
Preheat oven to 400 degrees. In a large glass baking dish spray olive oil to coat bottom. Place salmon in dish and squeeze the juice of one lemon. Sprinkle with ginger, thyme, salt, and pepper. Flip filets over a few times to ensure both sides are seasoned. Let sit out for about 30 minutes before placing in the oven. Bake for 16-20 minutes depending on the temperature you prefer (16 for rare and 20 for medium).