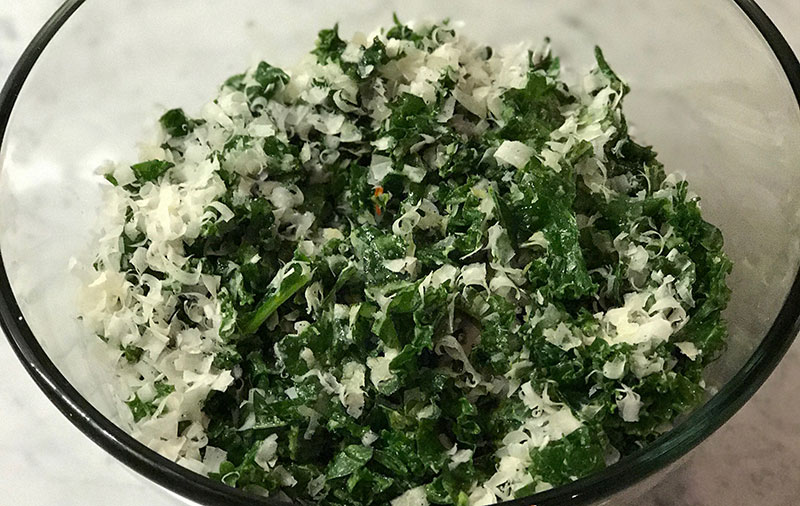 I make this salad all the time and everyone loves it. My husband even called it "the best salad he's ever had!" We added it to our traditional Thanksgiving menu a few years ago and have found that many people appreciate having a healthy item on the buffet. It is great for any dietary restrictions because while I call it a Caesar, it does not have any anchovies or eggs, so it can easily be made vegan (leaving out the parm). It is also naturally gluten-free and can remain vegan and dairy-free if you leave out the cheese. It's perfect to make at least 30 minutes ahead and pop in the fridge. This gives the kale a chance to marinate in all the delicious flavors.
Ingredients:
8 cups (firmly packed) kale, chopped

½ avocado, smashed

2 garlic cloves, minced

1 large lemon, zest and juice (about 1/8 cup)

1 tbsp extra virgin olive oil

salt and pepper, to taste
Optional add-ins:
crushed red pepper to taste

2 tbsp (or more!) freshly grated Parmesan

1 tbsp nutritional yeast
Directions:
Remove any hard ribs from kale and chop in bite-sized pieces. In the bottom of an empty salad bowl whisk together smashed avocado, minced garlic, lemon zest, lemon juice, oil, salt, and pepper to create dressing. Add kale and mix together thoroughly using your hands. Let rest in the fridge for at least 30 minutes. Add crushed red pepper if you like spice and freshly grated Parmesan or nutritional yeast (to keep it vegan and dairy-free) and mix lightly to just combine.