I recently hosted a dinner party for 14 of my girlfriends. I was excited to show them that a dinner party and/or celebration doesn't necessarily have to involve heavy and unhealthy food, but can instead be based around plants and healthy proteins. I was even more thrilled when I found out Domino Magazine was going to feature the dinner on their fabulous site!! Click here to check it out!
Below are all the recipes from my delicious dinner party…Vegetarian Stuffed Mushrooms, Tuna Tartare, Roasted Vegetable Soup, Kale "Caesar" Salad, Smashed Potatoes, Sweet and Spicy Brussels Sprouts, Chocolate Chip Cookie Dough Balls, and Chocolate Mousse. Hope you'll give them a try and let me know what you think! Don't forget to post pics and tag @livlight_ and #livlight.
Vegetarian Stuffed Mushrooms
Ingredients:
1.5 pounds large white mushrooms or baby bellas
2 tbsp extra virgin olive oil or coconut oil
½ yellow onion
3 green onions
1 red bell pepper
¼ cup roasted red peppers
½ cup walnuts, crushed
1 tsp oregano
¼ cup fresh flat leaf parsley
¼ cup fresh grated parmesan (optional…could sub nutritional yeast or vegan parmesan)
salt and pepper to taste
Directions:
Preheat oven to 400 degrees. Clean mushrooms gently with a towel and remove stems carefully, keeping caps intact. Place the mushrooms stem side down on a baking sheet and bake until liquid begins to leak out, about ten minutes. Remove and place on paper towels to soak up additional liquid. In the meantime, chop half the mushroom stems into small pieces, as well as onion, green onion, peppers, and parsley. Heat oil in a large skillet and add chopped veggies (except parsley), oregano, salt, and pepper. Sauté until veggies are tender. Transfer to a bowl and let cool slightly before adding parsley, walnuts, and parmesan. Mix well. Place par-cooked mushrooms on a baking sheet and fill with stuffing. Bake for 15 minutes.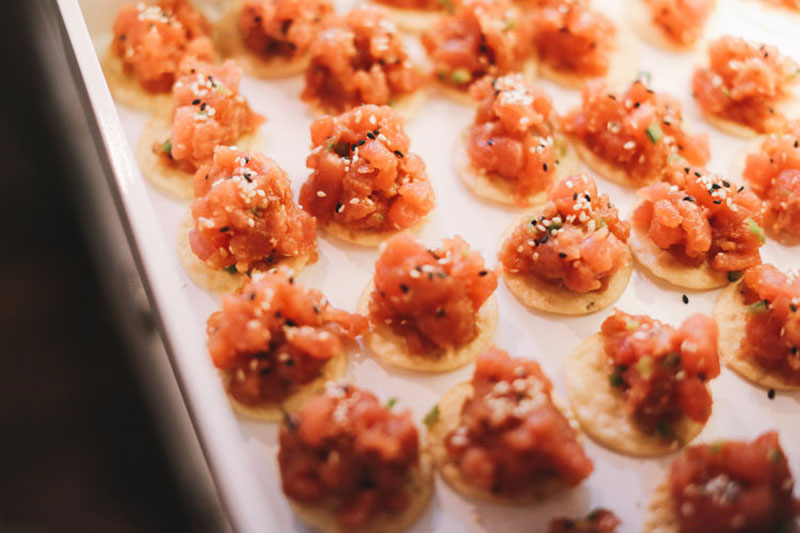 Ingredients:
1 pound sushi grade tuna
¾ tsp fresh ginger, peeled and minced
1 ½ tbsp low-sodium tamari (wheat-free soy sauce)
2 tsp fresh lime juice
1 ½ tbsp organic sesame oil
1 jalapeno, minced
2 tsp black sesame seeds
Rice crackers or sliced cucumbers
Directions:
Cut tuna into quarter inch cubes. Combine ginger, tamari, lime juice, jalapeño, and sesame oil. Add tuna and stir gently. Place mixture in the fridge for about 30 minutes to marinate. Top rice crackers or cucumber slices with tuna mixture and sprinkle with sesame seeds.
Ingredients:
2 tbsp extra virgin olive oil or coconut oil
1 yellow onion
4 garlic cloves
1 red bell pepper
1 yellow bell pepper
1 green bell pepper
1 orange bell pepper
1 zucchini
1 bunch asparagus
2 tomatoes
1 jalapeno (optional if you like spice)
1 32oz box low-sodium vegetable broth
½ tsp thyme
½ tsp celery salt
½ tsp salt
¼ black pepper
Directions:
Preheat oven to 375 degrees. Cut peppers, zucchini, and onion in wide strips. Quarter tomatoes and remove seeds. Cut top off jalapeno, slice in half lengthwise, remove seeds and most of the white rib. Place all vegetables on a large baking sheet and toss with oil and spices. Roast until soft about 25 minutes. Carefully place in blender pitcher and add half the broth. Starting at the lowest level, slowly increase speed until pureed smooth. Add additional broth until you've reached your desired consistency. Add to pot and simmer until ready to serve.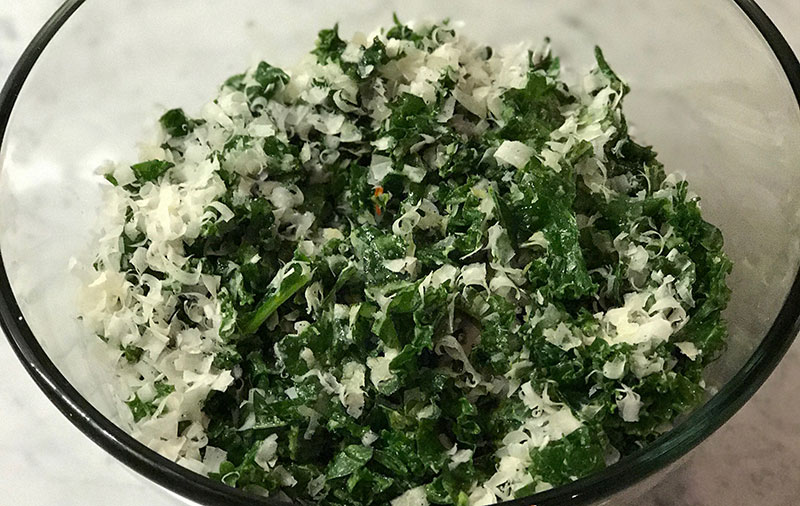 Ingredients:
8 cups kale, chopped
½ avocado, smashed
2 garlic cloves, minced
1 large lemon, zest and juice (about 1/8 cup)
¼ extra virgin olive oil/li>
¼ tsp sea salt
1/8 tsp pepper
Optional add-ins:
crushed red pepper to taste
2 tbsp (or more!) freshly grated Parmesan
1 tbsp nutritional yeast
Directions:
Remove any hard ribs from kale and chop in bite-sized pieces. In the bottom of an empty salad bowl whisk together smashed avocado, minced garlic, lemon zest, lemon juice, oil, salt, and pepper to create dressing. Add kale and mix together thoroughly using your hands. Let rest in the fridge for at least 30 minutes. Add crushed red pepper if you like spice and freshly grated Parmesan or nutritional yeast (to keep it vegan and dairy-free) and mix lightly to just combine.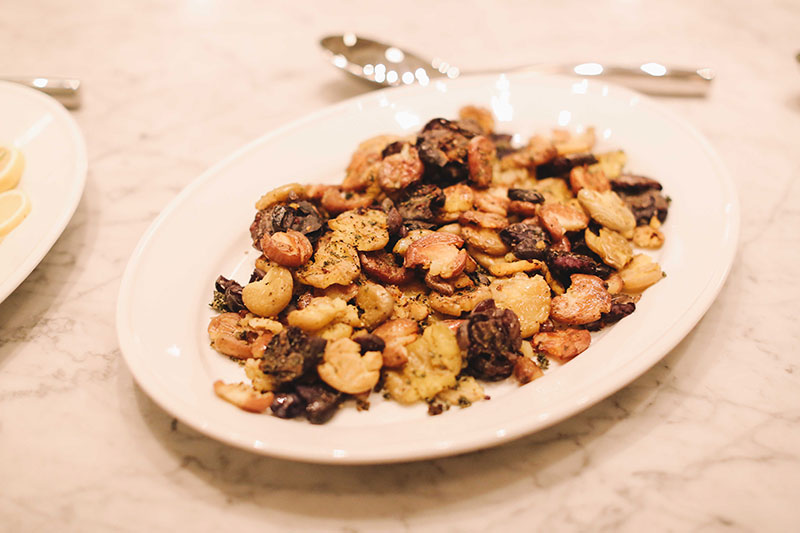 Ingredients:
1 ½ pounds mixed baby potatoes
2 tbsp extra virgin olive oil
1 ½ tsp onion powder
1 tsp garlic powder
2 tsp dried parsley
½ tsp mustard powder
1 tsp sea salt
½ tsp black pepper
Directions:
Fill a medium pot with water and bring to a boil. Carefully place the potatoes into the pot and boil for 15 minutes, until just fork tender (you don't want them falling apart). In the meantime, preheat oven to 400 degrees and line a baking sheet with parchment paper. Combine onion powder, garlic powder, parsley, mustard powder, salt, and pepper in a small bowl and set aside. Drain the potatoes and carefully pat dry. Once they are cool enough to touch, transfer them to the baking sheet, and gently smash with a fork, until they're about ¼-½ inch thick. Drizzle oil over all the potatoes and sprinkle with the seasoning mix. Bake for about 30 minutes or until crispy. Sprinkle with additional seasoning.
Sweet and Spicy Brussels Sprouts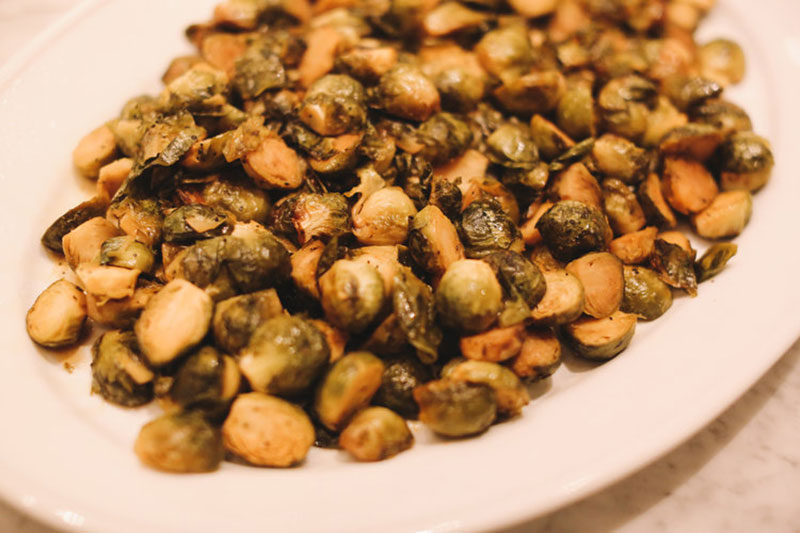 Ingredients:
2 pounds small brussels sprouts, trimmed and halved
1 tbsp extra virgin olive oil
2 tsp pure maple syrup
1 tsp chili sauce (I use the organic version of sriracha)
salt and pepper to taste
Directions:
Preheat oven to 400 degrees. Place sprouts in a ziplock bag with olive oil, salt, and pepper. Shake to coat evenly. Pour sprouts onto a parchment lined sheet pan in a single layer. Roast until slightly browned about 20 minutes, shaking once halfway through. Combine syrup and chili sauce and drizzle evenly over sprouts. Return to oven for an additional five minutes or until caramelized.
Roasted Salmon with Lemon, Ginger, and Thyme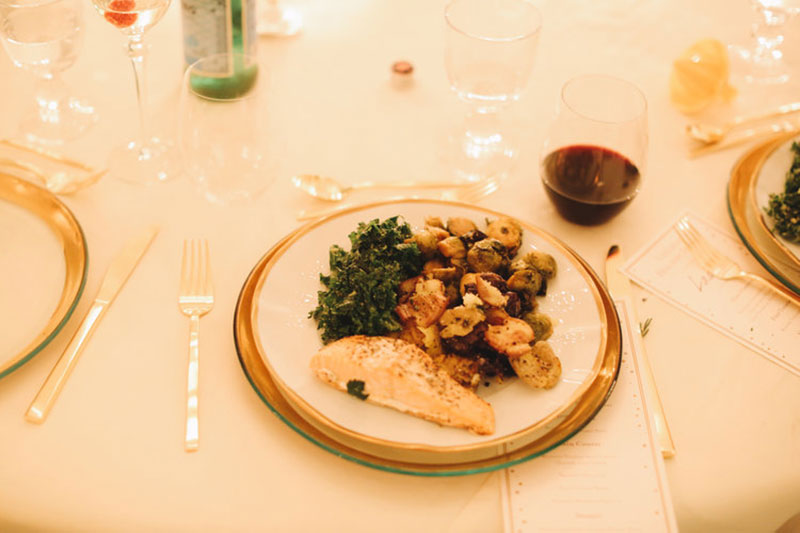 Ingredients:
4 6oz salmon filets, skin removed (just ask the fishmonger)
1-2 tbsp extra virgin olive oil
1 lemon, juiced
1 tsp dry ginger
1 tsp dry thyme
Salt and pepper to taste
Directions:
Preheat oven to 400 degrees. In a large glass baking dish drizzle olive oil to coat bottom. Place salmon in dish and squeeze juice of one lemon. Sprinkle with ginger, thyme, salt, and pepper. Flip filets over a few times to ensure both sides are seasoned. Let sit out for about 30 minutes before placing in the oven. Bake for 16-20 minutes depending on the temperature you prefer (16 for rare and 20 for medium).
Chocolate Chip Cookie Dough Balls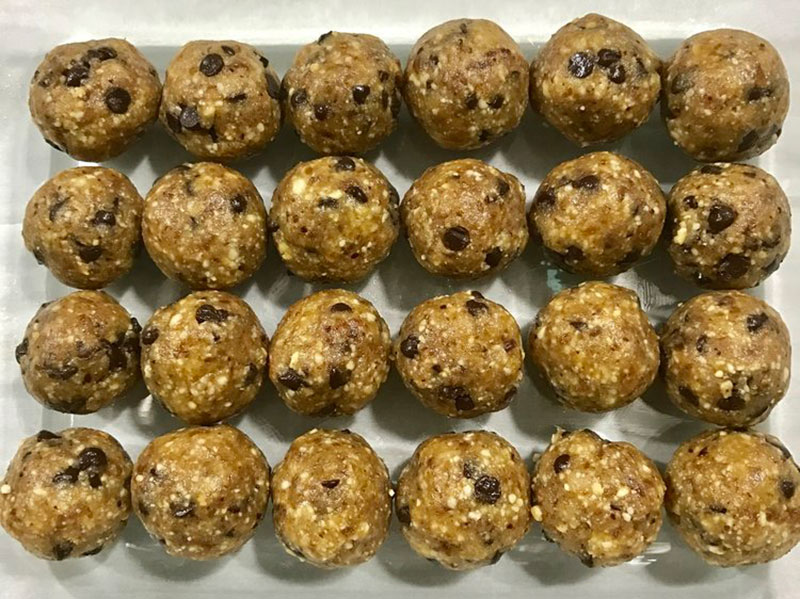 Ingredients:
1 ½ unsalted cashews
1 cup Medjool dates, pitted
1 tsp pure vanilla extract
2 tsp water
pinch of sea salt
¼ cup mini vegan chocolate chips (I use Enjoy Life brand)
Directions:
Pulse cashews in a food processor until ground. Add dates and vanilla and process until the mixture comes together. Add water as needed. The mixture should stick together when ready. Roll into small balls, place on parchment lined cookie sheet and freeze for about 30 minutes. Place in an airtight container and store in fridge for up to one week or freezer for up to one month.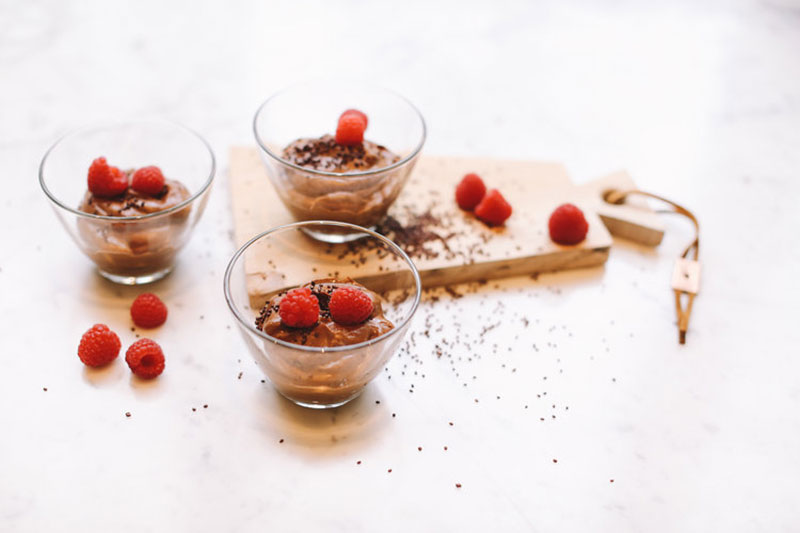 Ingredients:
½ cup dark chocolate chips
4 very ripe avocados
½ cup pure maple syrup
½ cup unsweetened cocoa powder
1/3 cup almond milk
1 tbsp vanilla extract
¼ tsp salt
Directions:
Place chocolate in a glass bowl over small pot of simmering water. Stir until chocolate is melted and smooth. Set aside and let cool slightly without hardening. Place melted chocolate, avocados, maple syrup, cocoa powder, almond milk, vanilla, and salt in a food processor. Blend until very smooth. Spoon into small glass bowls and refrigerate for at least 2 hours or up to a day in advance.