With Halloween right around the corner, I can't help but address the taboo anti-candy topic. I know all the usual responses…"kid's should be kids…it's an American tradition…we all did it as kids and we turned out fine!" I get it. All of these statements may be true, but that doesn't make them right. As Oprah says, "when you know better, you do better."
Almost all holiday celebrations revolve around food and have for many generations, but is it possible to change tradition? Given the obesity (and diabetes) epidemic in our country, why would we encourage our children to collect and eat hundreds of pieces of candy, which is all simply refined sugar (a known leading factor to this epidemic)?
I find that my four-year-old is just as excited by little trinkets, prizes, stickers, etc. as she is about candy. It just needs to be presented in a certain way. Don't get me wrong, I share your same childhood memory of coming home on Halloween night and dumping my loot out on the living room floor with my sister, and counting and trading our favorite pieces. But, what if our children could dump out and trade stickers, erasers, pencils, jewels, mini skeletons, rubber bouncy "eye" balls, sticky spiders, plastic rings, slime and so on.
Kids LOVE collecting things. If you think about it, most kids are like mini hoarders. They collect keychains, Pokemon cards (or baseball cards in our day), Beanie Boos and everything else, so why wouldn't they want to collect Halloween "goodies," which just happen to not be edible?!?
I know what you're all thinking…this sounds expensive, but just hear me out!!! A Mars brand mixed bag (Milky Way, Snickers, Twix, 3 Musketeers) of 205 mini pieces costs about $20. I'm not sure about yours, but in our neighborhood, I would easily need at least five of these. For the same $100, you can get tons of adorable fun little toys, which will still bring joy to our children and teach them that celebration doesn't have to revolve around unhealthy edible goodies!
Of course, our children are still going to collect candy, so rather than throw it away while they are sleeping, make it a teachable moment by donating the candy. Many dentists will collect or even buy your candy and donate it as part of Operation Gratitude, which sends care packages to US troops overseas. Click here to find a drop-off location in your area. Maybe you allow your child to pick their ten favorite pieces and let them have one/day for the next ten days, and then "trade" the rest (to be donated) for a favorite new toy or game.
Below are some of my favorite #LivLightPicks to put in your Halloween "candy" bowl instead this year. Hope you'll give this a try and let me know what you think.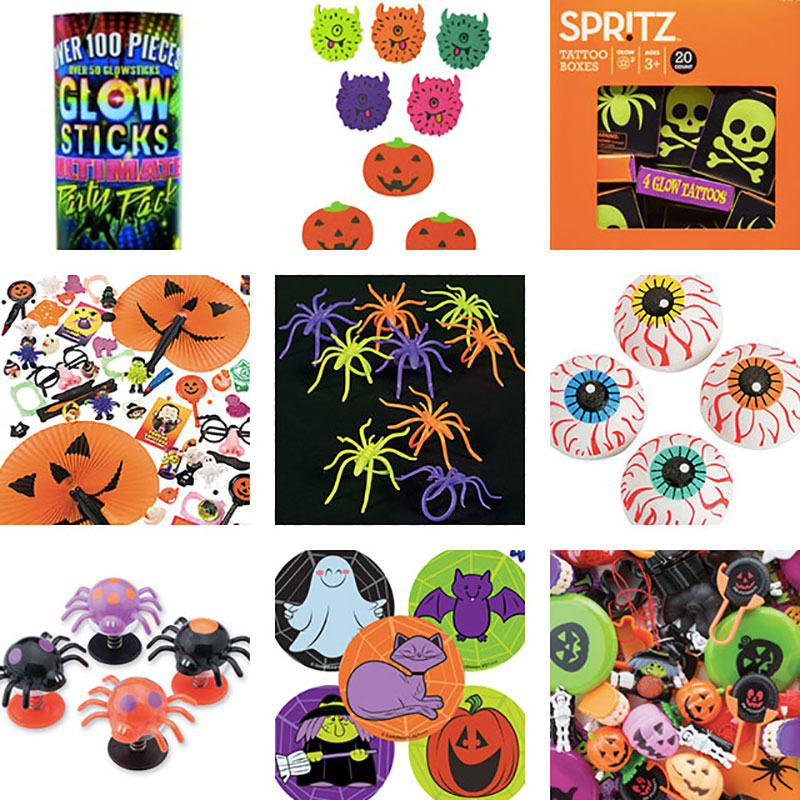 Top Row(www.target.com):
Glow Sticks ($7 for 100)

Erasers ($3 for 60)

Tattoo Boxes ($3 for 20)
Middle Row(www.orientaltrading.com):
Mega Halloween Assortment ($37.99 for 250)

Spider Rings ($5.70 for 144)

Eyeball Erasers (3.98 for 24)
Bottom Row(www.smilemakers.com)
Jumping Spiders ($11.99 for 36)

Stickers (5.99 for 100)

Halloween Sampler (29.24 for 144)