I can't explain how excited I am to feature Daniel Shapiro, of Fourlaps, on LivLight.  I have known Daniel since I was born and consider him basically like a brother. That being said, this feature is not based on bias, but entirely on what I have seen, felt and heard (from some pretty reliable sources). Daniel always knew he wanted to create an apparel brand, but took the smarter route and didn't rush in. Instead, he worked for several major brands (think: Gap, American Eagle, etc.) in order to learn the business. When he settled on men's activewear, again, he didn't rush in. He took the time to study the industry, research fabrics and materials, and finally, determine what was missing in the market. With lots of determination, hard work and overcoming obstacles, Fourlaps was born.
"I felt like there was a void in men's athletic apparel space.  I had a hard time finding product that was well made, in great fabrics, with functional details that was also affordable.  Fourlaps is a great balance between style, function, and price." –Daniel Shapiro  
Fourlaps truly is an incredible line of men's activewear, made out of the best possible fabrics and sold (online at Fourlaps.com) at a surprisingly reasonable price point. While I can't actually wear the line (yet!), everyone who has tried it, says the fit is perfect. The pieces are on the slimmer side, making them flattering and slightly fashion forward, and many incorporate bright pops of color. The basics are literally pieces any guy could wear every single day, and the high-quality fabrics are sure to hold up through all the sweat!
As always, we asked Daniel about a day in the life of his eating! Here's what he told us…
"I try to eat as healthy as possible and like to eat smaller meals often. Also, I try to do everything in moderation and when I go on vacation I eat what I want.  I went to Italy and France recently and ate and drank what I wanted but also walked almost everywhere.  I lost weight."  
Pre-Gym-cold brew coffee and banana with peanut butter
Breakfast – yoghurt with chia seeds and fresh fruit or oatmeal with almond butter
Lunch – near the office at Dig Inn or sweetgreen
Snack – Matcha with almond milk (for an energy boost) and almonds, green apple or popcorn
Dinner – Homemade healthy turkey chili
Hope you'll read on for the rest of my interview with Daniel to learn more about Fourlaps, the challenges he has overcome in starting a new business and so much more. At Livlight, we're holding our breath for Fourlaps-Women!!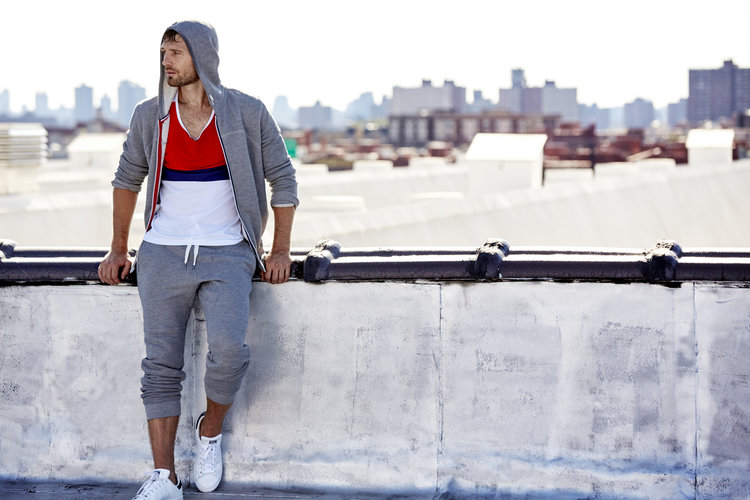 Interview with Daniel Shapiro, Fourlaps 
Making a major career move and launching Fourlaps was very brave of you. What helped motivate you to follow your dream of starting an apparel company and how did your past experiences/jobs help you in your new endeavor?
For as long as I can remember, I have always wanted to start an apparel company.  As a kid I was really into clothing and also consumer behavior.  I was the go to person in family and amongst my friends when someone wanted to buy something from clothing to cars to electronics.  I had wanted to start an apparel company in my mid- twenties but had received the invaluable advice to get some experience, so that's what I did.  I went to work for some of America's greatest brands.  It was at these brands as a merchant that I really learned a lot about consumer behavior.  What things the customer liked vs disliked in terms of styles, pricing, placement and marketing.  I worked in all categories, men's, kids and women's and was successful in delivering the right products at the right time.  Of course, nothing can prepare you for being an entrepreneur.  I am challenged in ways I have never been before.  I learn something new every day.  Being an entrepreneur is all about loving the everyday challenge.
Working for yourself can be difficult, especially at first. What helped you stay on track?  
I set goals and create lists and set deadlines.  Things don't always go as planned and I had a very major setback in the process that set me back a year.  Setbacks are part of the process and you need to learn from them and move forward.   
I'm also working with a business coach.  They can really help keep you honest and motivated.
What challenges have you faced in starting a new company and how have you overcome them?
The biggest setback I have had so far is sourcing.  It's very hard to find factories when you are starting off.  I was working with a sourcing consultant "expert" who was supposed to help find me the right factory and manage the production process.  After about five months, I began to realize that she didn't know what she was doing.  We were getting submits back from the factory that weren't right and it kept happening over and over again.  When I asked her if this factory had made athletic apparel she emphatically said yes.  She had never been to the factory and I doubted her.  I got on a plane and went to China and discovered I had been placed in a pajama factory that had never made anything resembling athletic apparel. In the end, I had to switch factories.  I lost all my raw materials and almost a years worth of time.  It was a hard lesson but you can't launch with something that isn't well made.  You have to learn from your lessons and move forward.
Why did you choose men's athletic apparel? Does Fourlaps fill a space that you saw missing in the market?
I felt like there was a void in men's athletic apparel space.  I had a hard time finding product that was well made, in great fabrics, with functional details that was also affordable.  Fourlaps is a great balance between style, function, and price. 
What are the special features of Fourlaps (fabric, design, etc.) that set you apart from other athletic apparel companies? 
I was inspired by old images of ivy league athletes.  There was a simplicity and elegance to the clothing and I used those images as a reference for the line.  Clean design lines, bright optimistic colors, and great functional details at affordable prices.  The majority of the line is under $50. 
We are using functional fabrics like an incredible four-way stretch fabric for our 9" advance and 7" bolt shorts.  A super soft durable french terry for our Rush hoodie, jogger, and short.   
All of our pants and shorts have three sets of pockets including a zipper pocket for your keys and credit cards, and an interior cell phone pocket that holds your cell in place when you run.
What do you do to stay fit and which are your favorite Fourlaps pieces to wear while doing so? 
Being active for me is both about keeping fit and also having a clear/calm mind.  I work out six days a week. I lift, run, do yoga, pilates, spin, and cross train in some combination which I vary from week to week.  I go to Equinox which has been great for me and allows me to participate in a wide variety of activities.  In addition, I do transcendental meditation twice a day.  I find that it helps keep me centered and focused.  My favorites for running are the Bolt Short and the Dash Tank.  For training, I like a Signature Tee and an Advance Short. 
For those readers looking to take the leap and follow their dream of a career change or starting a new business, what advice would you offer them? 
My brand tag line is "Start Before You're Ready."  I follow my own advice.  If you wait for the right moment it won't present itself.  If you wait for perfection it won't happen.  Starting my own company has been the most rewarding journey and has challenged me in ways I could have never expected.  You must love being challenged every day and also solving problems.  You must be patient.  Success doesn't happen overnight. 
Owning your own business can often be all-consuming.  How do you incorporate self-care into your daily or weekly regimens? 
Self-care includes getting a good night's sleep, working out, meditating, eating healthy and taking breaks.  I try to take at least one day off per week and I always try to plan one fun thing every day.  Something I can really look forward to. 
I also try to take vacations where possible.  If you are burnt out you can't be effective.    
Most importantly, is there a women's line in the future of Fourlaps?  We sure hope so! 
Absolutely, I need to walk before I run (pardon the pun). Want to get the men's line in a good place and then will definitely want to branch out into women's.