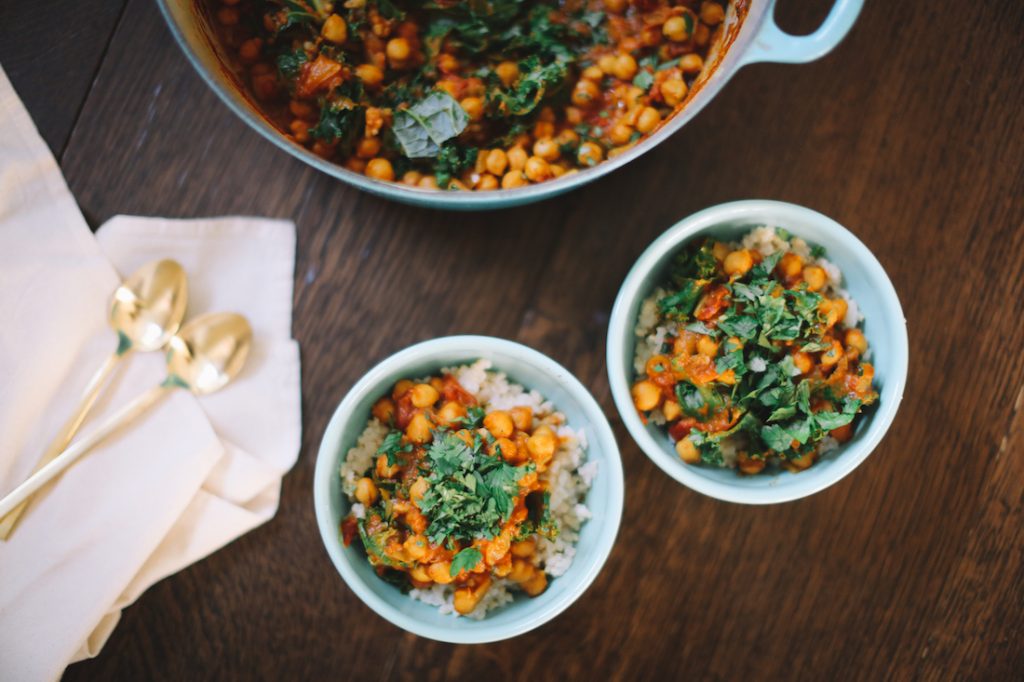 My Easy Chickpea Stew is just that, easy! It comes together quickly and cooks in about 20 minutes. It makes a huge amount and is vegan, dairy, gluten, and soy free, making it a great option for a large group. It does have a good amount of heat, so cut back on the cayenne if you don't care for spice. Hope you'll give my Easy Chickpea Stew a shot and let me know what you think. As always, don't forget to post pics and tag @livlight_ and #livlight.
Ingredients:
2 tbsp coconut oil
1 large onion, chopped
3 garlic cloves, minced
½ tsp fresh ginger, minced
1 tsp garam masala
1 tsp turmeric
½ tsp cumin
½ tsp cayenne pepper
1 large can (28oz) organic finely diced tomatoes, no salt added
3 cans no salt added chickpeas, drained and rinsed
½ cup unsweetened coconut milk
2 cups kale, chopped
¼ cup fresh cilantro, chopped
Directions:
Heat coconut oil on med-high heat. Add onion and cook until softened and slightly brown. Add garlic and ginger and cook for about a minute. Add spices and stir well. Add tomatoes and chickpeas and allow to simmer for about 20 minutes. Add coconut milk and combine well. Sprinkle with fresh cilantro and serve.