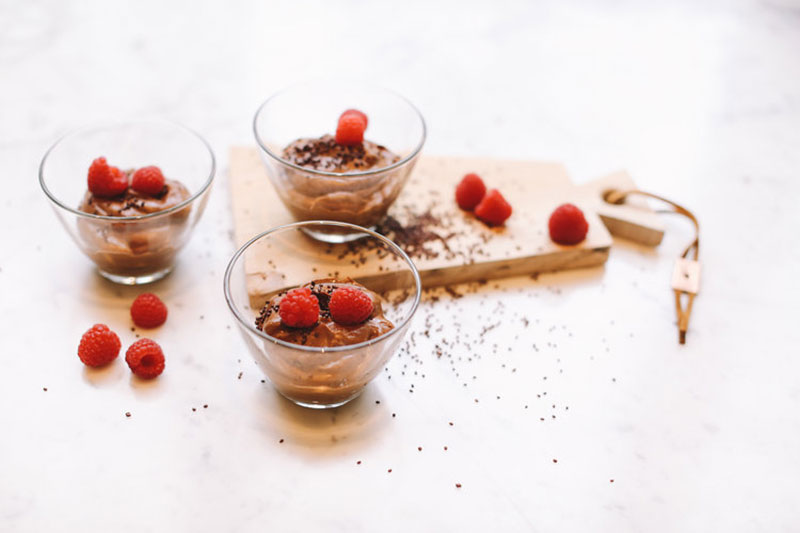 I recently hosted a dinner party for 14 of my girlfriends. I was excited to show them that a dinner party and/or celebration doesn't necessarily have to involve heavy and unhealthy food, but can instead be based around plants and healthy proteins. I was even more thrilled when I found out Domino Magazine was going to feature the dinner on their fabulous site!! Click here to check it out!
For dessert, I served my Chocolate Avocado Mousse. It is the most decadent tasting mousse, but the creaminess comes from avocado rather than dairy. There is also no refined sugar…just a small amount of maple syrup to add some sweetness.
Hope you'll give my mousse a try and let me know what you think. Don't forget to post pics and tag @livlight_ and #livlight!
Ingredients:
½ cup dark chocolate chips
4 very ripe avocados
½ cup pure maple syrup
½ cup unsweetened cocoa powder
1/3 cup almond milk
1 tbsp vanilla extract
¼ tsp salt
Directions:
Place chocolate in a glass bowl over small pot of simmering water. Stir until chocolate is melted and smooth. Set aside and let cool slightly without hardening. Place melted chocolate, avocados, maple syrup, cocoa powder, almond milk, vanilla, and salt in a food processor. Blend until very smooth. Spoon into small glass bowls and refrigerate for at least 2 hours or up to a day in advance.