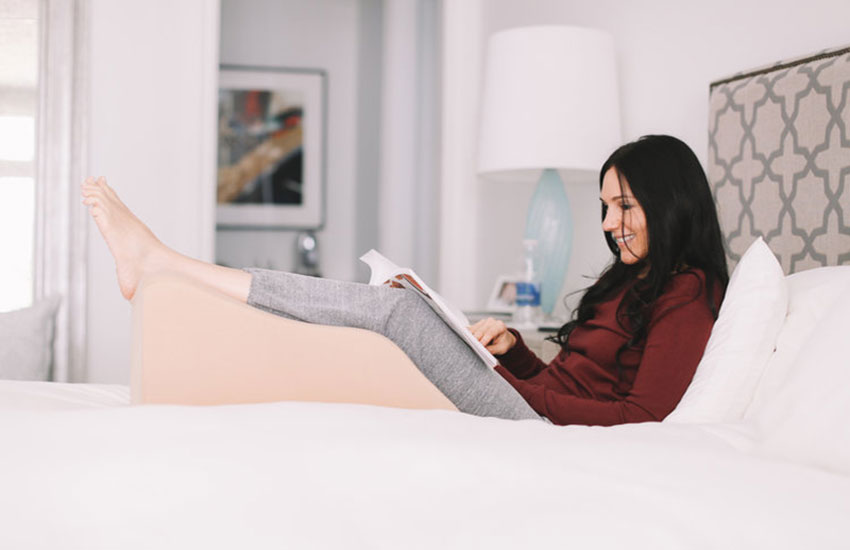 As you all know by now, I often struggle with lower back pain. I use Acupuncture and exercise to try to keep it at bay, but sometimes it reappears no matter what I do. Recently, my friend recommended I try a leg wedge pillow called The Lounge Doctor, which elevates your legs and feet while lying in bed or on the couch.
It is the only patented leg elevation pillow which correctly positions the lower extremities in order to maximize venous and lymphatic flow, and was designed by a Physician, Chris Dickson, M.D., based on actual science.
As I read more about it, I learned that it is not only helpful for back pain, but for so many other things including leg swelling, vein problems, and leg injuries. It is also perfect for people who are pregnant, having surgery, who stand or sit all day at work, athletes, and those who travel. Sounds like just about everyone!
The Lounge Doctor comes in several sizes (determined by your height), so you can make sure to get the perfect fit. There are also extra wide, memory foam, and inflatable travel versions. I've been using my Lounge Doctor in bed every evening and have noticed a tremendous difference. It takes the pressure off my lower back and allows me to fully relax. My sleep and back pain have both improved!
I'm so excited to feature The Lounge Doctor on LivLight, as it has recently been named a top finalist with the HSN and Good Housekeeping American Dreams Initiative and is going on HSN in December! Guess I'm not the only one who loves it!
Click here to learn more about The Lounge Doctor or purchase one for yourself. If you do, make sure to let me know what you think of this most definitely #LivLightApproved product!
Also, don't forget to check out Dr. Chris Dixon and The Lounge Doctor on HSN Monday, December 5th from 6-7 p.m. EST and Tuesday, December 6th from 7-8 a.m. EST, and in the December Issue of Good Housekeeping magazine!
This is not a sponsored post.